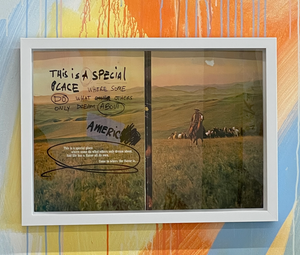 Artist:  Tiago Magro
Title:   A Special Place
Size:   13 x 8 Inches (15 x 21 Inches Framed)
Medium:  Original on Paper
Year:  2021
Notes:  Hand Signed by the Artist. Artwork is in Excellent Condition. Additional Images upon request. COA Included. 
Created in 2021, a year that saw great change and forced many to adopt, overcome and proceed to the journey of the Inevitable Unknown. Seeing that it has never been more important than now for a need to surround and immerse ourselves among bright and uplifting art; he has transformed the End to End Gallery showroom leaving no white wall unpainted with bright, vivid watercolor based paint and with the use of his dynamic brushstroke he created an exuberant space for the backdrop of his featured works made from various materials including stencils, spray paint, epoxies, varnishes and newspapers to convey his love and passion for life. Reminding us all that you can't live in fear of the Inevitable or prepare for the Unknown, but rather finding comfort that the Inevitable eventually becomes KNOWN.
"I love the emotion of being able to relate to each of my pieces and each piece is ultimately a part of me. I want my art to express and reflect who I really am. In most of my work I use mixed media and experiment with different elements along with color but being Brazilian does play a major part in each stroke given, understanding, living, loving and learning from art. It expresses who I am. It's my soul. My ultimate goal is to inspire, to have individuals want to feel superior about themselves and contribute to having them follow their dreams… I don't do art I live art."- Tiago Magro