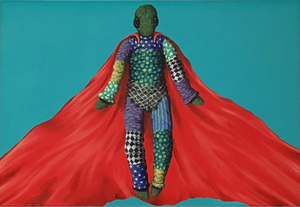 Artist: Suanjaya Kencut
Title:   Spread Wings
Medium: Acrylic on Canvas 
Size:  29 1/10 × 40 3/5 in | 74 × 103 cm
Edition: Unique
Year: 2021
Notes: This artwork is accompanied by a Certificate of Authenticity, signed by the artist. Excellent Condition. Hand Signed on Verso. 
I Putu Adi Suanjaya, known in the art world as 'Kencut,' is a versatile visual artist whose creative portfolio encompasses paintings, sculptures, and installations. His artistic journey is deeply rooted in the rich traditions of Balinese art, as well as the contemporary art installations that have surrounded him throughout his life.
Kencut's work is distinguished by its primary focus on dolls as the central subjects. Through his artistry, he endeavors to breathe life into these inanimate figures by situating them within real-life scenarios. In doing so, he invites viewers to witness the dolls experiencing a spectrum of human emotions, navigating life's challenges, and savoring its joys. Notably, his works employ flat backgrounds and vibrant color palettes, creating an illustrative ambiance that encourages viewers to immerse themselves in the dolls' perspectives.
Kencut's artistic journey culminated in the attainment of his Bachelor's degree in Fine Arts from the Indonesia Institute of Art Yogyakarta in 2012. His work stands as a testament to his ability to bridge the traditional and the contemporary, offering viewers a unique and captivating glimpse into the world of art.