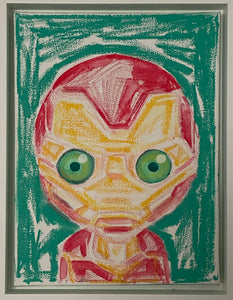 Artist: Socko
Title:  Iron Boy 
Medium:  Mixed Media on Canvas
Size:  11 1/2 × 9 in (29.2 × 22.9 cm)
Edition: Original 
Year: 2021
Notes: Hand Signed on Verso. Custom Framed Floating on a White Acid free Frame
At present, Socko is a self-reliant artist residing in New York City. Socko's latest creations delve into the realm of imagination, embodied by the character Dough. Drawing inspiration from 90s cartoons and toys, Socko invites viewers into a fantastical realm awash with vibrant hues and unrefined textures.