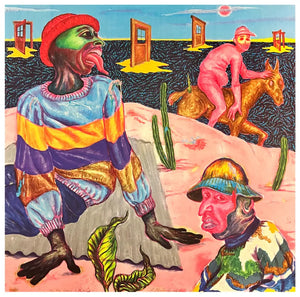 Artist: 

 
Simphiwe Ndzube 
Title:
 In the Silence of the Drum
Size:
 31 1/2 × 31 1/2 in | 80 × 80 cm

Medium:

 
Screen Print using three special effects: zinc on the left waveboard, solar gold on the islands, and magenta metallic on the horse and the face

Edition:
  10/55
Year:

  
2022
Notes:
Artwork is in Excellent Condition. New. Unframed. 
Signed, dated, titled, and numbered (lower sheet).