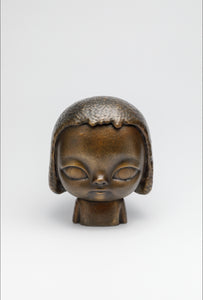 Artist:  Roby Dwi Antono
Title:  Kira
Size:   12.2 x 10.2 x 9.1 inches
Medium:  Bronze sculpture with burnished gold finish and crystal resin tears
Edition:  of 75
Year:  2021
Notes:  Comes with Original Box. Artwork is in excellent condition.
Roby Dwi Antono proffers a darkly endearing, emotionally-charged take on childhood nostalgia.
KIRA, a new rendition of one of the artist's distinctive characters, has crystal resin tears carefully placed under each eye — imbuing the otherwise-robust bronze with the paradox of heroism and helplessness found throughout Dwi Antono's practice.
Represented by Almine Rech.