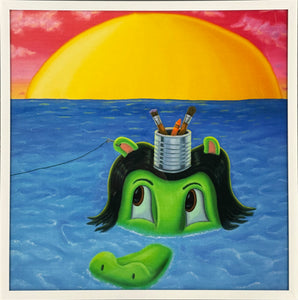 Artist:  Nicasio Fernandez
Title:  Distraction 
Size:  24 × 24 in | 61 × 61 cm
Medium:  Rayon
Edition:  of 150
Year:  2021
Notes: Custom Framed, Ready to Hang! Gallery Certificate of Authenticity Included. 
Derived from the painting Distractions features a glowing green figure at sea set against the horizon line of a warm pink sky and a rounded illuminated sun. The palette was conceived with the thought of how time affects colors, specifically from this light source either rising or setting. Within the figure's ear, a hook takes charge, grabbing the attention and direction of the figure, showing how the figure is not in charge of its own path. This painting stemmed from the artists personal narrative at a time when he was being taken out of the studio, having a lot on his mind and not being able to focus due to elements out of his control.