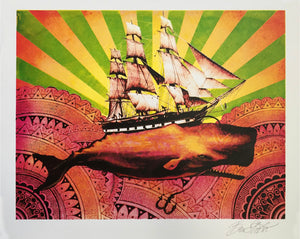 Artist: 
Beau Stanton
Title: 
Leviathan Magenta #2
Size:
   17 x 20 Inches 
Paper: 
110 lb. French paper

Technique:  
Acrylic and 4 Color 
Screen print 

Edition:
  Unique hand finished multiple of 10
Year:

 
2016
Notes:
  Hand signed in pencil in bottom right corner.  These unique multiples were created with the CMYK screen printing process. Each outcome of the 10 made are distinctly different due to the way the Artist manipulated the inks during the printing process. After printing, the Artist hand finished each piece in acrylic fine tuning the features of the whale as well as any inconsistencies resulting from the screen printing process.