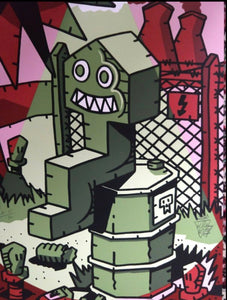 Artist:  Kriki
Title: Robot
Size: 26 9/10 × 19 1/5 in (68.3 × 48.7 cm)
Medium: Silkscreen on Conqueror 300 with Deckled Edges
Edition:  E.A of 32
Year:  1999
Notes: Hand Signed and Numbered by the Artist. Artwork shows no apparent condition issues. Includes Certificate of Authenticity. From the Federico Garcia Lorca portfolio.  Idea for graphic portfolio Federico Garcia Lorca was born in 1977 in Madrid by the curator and art collector Toni Politeo. International artists should make artistic contributions in memory of Federico Garcia Lorca.
In the summer of 2003 the project was completed. The Garcia Lorca portfolio which contains colored lithographs and serigraphs originated in the 1990s. It is a homage to a generalist who sowed instead of hatred, violence, intolerance and political regress love, truth and understanding and who united the folk art of his homeland with modernity.
Politeo's compilation became also an informative tour through the contemporary international art and the list of the involved artists sounds like a "who is who" in modern art.