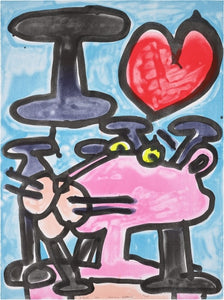 Artist:  Kathrine Bernhardt
Title:  I Love New York
Size:  39 1/4 x 29 1/4 in. (99.7 x 74.3 cm)
Medium:  Lithograph on Somerset Paper 
Edition:  14 of 75
Year:  2021
Notes: Signed, titled, dated and numbered 14/75 in pencil, published by Counter Editions, Margate, United Kingdom. Gallery COA Included. Custom Framed. 
Katherine Bernhardt's journey into painting the Pink Panther began when she arrived at the Pink Palace Hotel, also known as the Royal Hawai'ian Hotel, nestled on a sandy beach in Waikiki, Oahu. The hotel was situated not far from an imposing eighteen-foot tall bronze sculpture of King Kamehameha I, the legendary Hawai'ian warrior leader, typically adorned with a grand display of vibrant pink orchid lei. This trip was an immersion in all things pink, from the hotel's bathroom towels, sheets, and even sleep masks to the pink carpeting, beach chairs, beach towels, stationery, sunsets, breakfast pancakes, and the ubiquitous presence of the Pink Panther on television screens. As Bernhardt repeatedly watched videos of the Pink Panther, relaxing on a colossal pink bed and leisurely strolling around the hotel grounds, her son, Khalifa, too, became enthralled with Pink Panther videos on his cell phone. It was during this pink-infused experience that Bernhardt envisioned the Pink Panther on large-scale canvases and lithographs.
In the artwork "I Love New York," Bernhardt pays homage to the renowned American graphic designer Milton Glaser (1929-2020), the visionary behind the seemingly straightforward graphic message created with the American Typewriter font in 1976. This design swiftly transcended borders to become a globally recognized and cherished icon. Here, Bernhardt enhances the message's positivity by introducing the joyful Pink Panther, a character that could also be seen as a self-portrait of the artist. Although Bernhardt has recently relocated to her hometown of St. Louis, her love for New York remains unwavering. To her, New York is more than just a city; it represents boundless opportunities, adventures, and endless excitement. Even though her current residence is no longer in the bustling metropolis, she considers herself a "lifer," someone committed for life to the New York way of living.
About the Artist:
Katherine Bernhardt, represented by the influential CANADA Gallery, occupies a prominent position in New York's contemporary painting scene. Her artistic journey includes collaborations with hip-hop superstar Drake, vibrant poolside paintings in Miami, public murals in Los Angeles, and running her own business importing Moroccan carpets. Bernhardt's recent solo exhibitions have graced prestigious venues such as the Modern Art Museum of Fort Worth, the Contemporary Art Museum St. Louis, Lever House in New York, as well as European showcases at Xavier Hufkens in Brussels and Carl Freedman in London. Born in St. Louis, Missouri, in 1975, she currently lives and works in Brooklyn, New York.