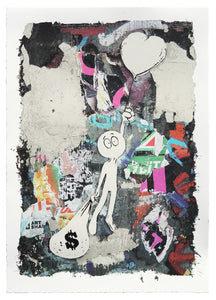 Artist:  Kai
Title:  Love vs. Money 
Size:   28 x 20 Inches
Paper: 250gsm Archival   
Technique:  8 Layer Serigraph 
Edition:  of 300
Year:  2017
Notes:  Kai's first print release. As Originally seen in Wynwood and in the Miami Design District. 
Custom Framed using a White Acid Free Matting with a Black Frame. 
Kai's street art practice often makes use of his signature character "IF," which stands for "Imaginary Friend." Kai often places the cartoon-like alter ego "IF" in situations both humorous and poignant, using the character to comment on contemporary events and as a stand-in for timeless themes of love, anxiety, money, and care. Kai's practice spans a number of disciplines, including painting, drawing, printmaking, sculpture, and installation, and his works can be found in cities across the world. Kai has exhibited in New York, Los Angeles, Miami, Paris, and Austin, and has collaborated with a number of brands and celebrities.