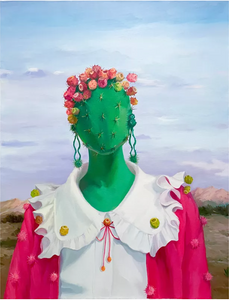 Artist:  Jingyi Wang
Title: Portrait in Old Fashion
Size: 34 × 26 in | 86.4 × 66 cm
Medium: Acrylic on Canvas
Edition:  Original  
Year:  2022
Notes: Hand Signed and Dated on Verso. Gallery COA Included. Artwork is in Excellent Condition.
Jingyi Wang, a Chinese artist born in 1989 and currently based in New York, is a prominent figure in the world of visual arts, specializing in the medium of oil painting. She embarked on her artistic journey by earning her Bachelor of Fine Arts (BFA) degree from the prestigious China Central Academy of Fine Arts in 2013. Subsequently, she pursued her passion and further honed her skills by obtaining a Master of Fine Arts (MFA) degree from the New York Academy of Art in 2016.
Wang's artistic prowess has been showcased at numerous esteemed venues and exhibitions, including Art Miami, Art New York, Sotheby's New York, Enjoy-Art Museum, Gallery Poulsen, Four You Gallery, Lorin Gallery, Mucciaccia Gallery, Cohle Gallery, Gallery Func, and Gallery Ascend, to name just a few.
Her remarkable contributions to the world of art have garnered significant recognition, with her works and artistic achievements being featured in prominent publications such as China Daily, The China Press, Sing Tao Daily Newspaper, World Journal, Journal of Contemporary Chinese Art, Aesthetica Magazine, Create! Magazine, ArtMaze Mag, Planet China, Friend of the Artist, and 100 Artists of the Future.
Furthermore, Wang has been interviewed by notable media outlets including New York Lounge and SinoVision, where she shared her insights and experiences as an artist.
Jingyi Wang's dedication to her craft and creative brilliance have earned her prestigious accolades, including the MOZAIK Future Art Awards in 2022 and the Terra Foundation Residency Award in Giverny, France, in 2015. These recognitions underscore her exceptional talent and commitment to the world of visual art.