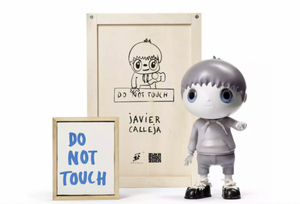 Artist:  Javier Calleja 
Title:  Do Not Touch (Grey)
Size:  14 1/2 x 7 1/2 x 8 7/10 Inches (36.8 x 19.1 x 22.1 cm.) 
Medium: Resin, Steel, String & Acrylic Paint
Edition:  of 250 + 50 AP
Year:  2020
Notes: Hand signed by Artist, Canvas is signed and numbered on the reverse. Sold with the original wooden box and cardboard box.

Throughout his career, Javier Calleja has explored various artistic mediums, including drawings, installations, sculptures, and paintings, frequently toying with scale and perspective in his presentations. His installations, ranging from the minuscule to the grandiose, often aim to enchant the viewer, making their engagement an integral part of the overall artistic experience.
While his work has been showcased in Spain and across Europe, it was his debut with Aisho Nanzuka in Hong Kong that marked the first appearance of his iconic big-eyed boy characters. Originally conceived as visual representations of the artist's own emotions and life experiences, these characters have since become his unmistakable signature. Over time, these characters have evolved from mere drawings to vibrant paintings and three-dimensional sculptures. They predominantly portray young boys in the transitional phase between adolescence and teenage years, distinguished by their oversized, watery eyes and a subtle touch of red blush. Calleja's creations embody the resilience of little heroes who have weathered adversity and are poised to embrace happiness after shedding tears.