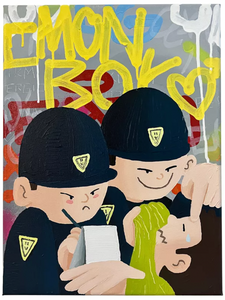 Artist:  Imon Boy
Title: La Multa
Size: 16 × 12 in | 40.6 × 30.5 cm
Medium: Acrylic on Canvas
Edition:  Original  
Year:  2020
Notes:  Hand Signed on Verso. Gallery COA Included.
Imon Boy, a native of Malaga, both resides and crafts his art in the city where he was born. Despite his discrete and solitary nature, the artist's true identity remains an enigma by choice. He purposefully maintains this aura of anonymity to emphasize his relatability, stating, "Behind Imon Boy, there exists a person much like yourself."

Imon Boy's creative works actively deconstruct the typical, testosterone-fueled stereotype often associated with graffiti artists. Instead, his art conveys a tender and ironic perspective on the act of illicit street painting, weaving an unexpected narrative rich with 'fails' in encounters with law enforcement and the inclusion of romantic messages meant for his concealed love interest.

Drawing inspiration from the cultural milieu of the 1990s, Imon Boy's creative palette is infused with elements from video games, movies, the internet, music, and the experiences of his journeys.