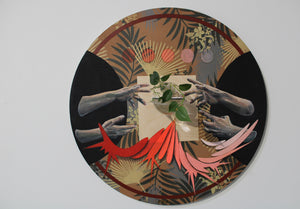 Artist:  Human Shaped Animal
Title: Grasp 
Size:   22 x 22 Inches (55.88 x 55.88 cm)
Medium: Acrylic on Wood & bulb for living plant
Edition:  Original 
Notes:  Artwork is in Excellent Condition. Additional Images upon request. COA Included.
Sprawling out from geometric roots and deliberate angles, shocks of color and swaths of rich grain find their own path, transforming a once barren desert of expression into an abstractly organic landscape reaching out with living fingers. Expanding in multiple directions from her experience as a painter and muralist, Human Shaped Animal creates a striking bouquet of multimedium pieces. Bycross-pollinating her original designs with digital fabrication and live plants she has reaped a mind-bending garden of complex form and moving stillness.