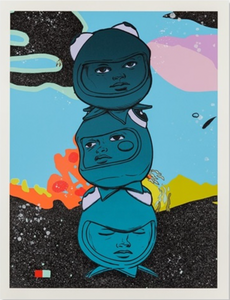 Artist: Hebru Brantley
Title: 3 The Hard Way 
Medium: 19 layer silkscreen print with a diamond dust finish on 100% cotton paper, Somerset Tub Sized 410gsm
Size: 66 x 50.7 CM
Edition: of 125 
Year: 2020
Notes: Hebru Brantley draws inspiration from comic books and pop art to create empowering, afrofuturist visions. Hebru says, "3 THE HARD WAY portrays the concept of standing together to fight a system of racism and violence against the Black community — because we are stronger together." 
Custom Framed Floating with a Floating 8 ply matting to hide any shards that may fall.