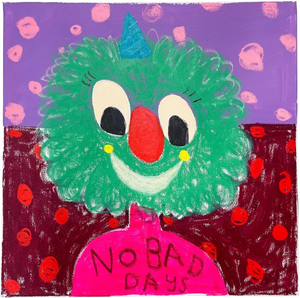 Artist:  Fanny Brodar 
Title: No Bad Days
Size: 23 3/5 × 23 3/5 in | 60 × 60 cm
Medium: Acrylic, oil pastel, and oil stick on canvas
Edition:  Unique
Year:  2022
Notes: Signed, dated, and titled (reverse). Artwork is in Excellent Condition. Gallery COA Included. 
ARTIST STATEMENT:

Fanny Brodar's art is a collision of the 1970s and the 2000s. It is an animated tapestry of memories from childhood, present day pop culture, and the future. Bright colors, child-like marks, and scribbled words invite the viewer to delve deeper into their own nostalgia while also questioning what is real and what is make believe.

Her muppet-like characters evolved from an escape from a traumatic childhood and represent the many emotions of a child. Her work also has a deeper meaning inspired by her interest in child psychology. It is common for adults to forget earlier hardship and hold on to happier memories in order to survive. The artist's faux naïf paintings lure the viewer into her made-up and magical world that she held on to, like her childhood bedroom that became whatever she wanted simply by thinking it up. Further, she builds on the nostalgic associations of the audience by building an emotional tension through the use of bright and dark colors and cartoonish characters.