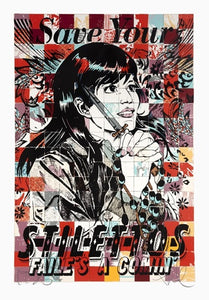 Artist:  Faile
Title:  Save Stilettos
Size:   39 x 27.5 in 
Medium:  18 Color Silkscreen Ink on Paper Archival Coventry Rag 290gsm.
Edition:  of 100
Year:  2010
Notes: Custom Framed and in excellent condition. Signed & Stamped, Faile 2010 featuring a play on the word 'stilettos' an elegant blade and also high heels and a suitably manic female figure.
"The prints where released in conjunction with the Bedtime Stories show featuring some of the new processes involved in the wood paintings. These are 18-color silkscreen prints on an archival Coventry Rag 290gsm, deckled edge paper. Based off 3 new images from the show. It was quite a journey to try and convey the wood block paintings as works on paper though we couldn't be more pleased with the results, we hope you enjoy" -Faile