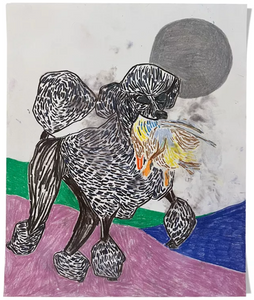 Artist:  Susumu Kamijo
Title: Untitled
Size: 17 × 14 in | 43.2 × 35.6 cm
Medium: Oil stick and pastel pencil on paper
Edition:  Original  
Year:  2017
Notes:  Great Condition. Framed: 20.75 x 18 in. Signed and Dated on Verso. Gallery COA Included.
Susumu Kamijo, born in Nagano, Japan in 1975 and currently residing and working in Brooklyn, New York, is a distinguished artist with a rich educational background. He earned his Bachelor of Fine Arts (BFA) degree from the University of Oregon in 2000, followed by the completion of a Master of Fine Arts (MFA) in Painting and Drawing at the University of Washington in 2002.

Kamijo's artistic journey has been profoundly influenced by iconic figures such as Francis Bacon and Willem de Kooning. Notably, his unique artistic expression found a captivating focus when he introduced his poodles into his work in 2014, instantly garnering significant attention.

A distinctive feature of Kamijo's artistry is his use of quick-drying vinyl paint, a choice that, in his own words, results in each of his paintings becoming "a quick resolution." This technique, rooted in the quest for authenticity, draws inspiration from Kamijo's early experiences in learning Japanese calligraphy as a young man.

Kamijo's deep engagement with creative writing is evident in his paintings, infusing them with a narrative "style" that mirrors the minimalism of a poem and the element of surprise found in a short story. By skillfully intertwining drawing and painting techniques, the artist weaves an intricate tapestry of symbols and signs, often rendered in ethereal and foreboding strokes of color.

In a playful and meditative manner, Kamijo's artistic oeuvre continues to evolve, consistently surprising, provoking thought, and transforming the way we perceive the world through his unique lens of creativity.