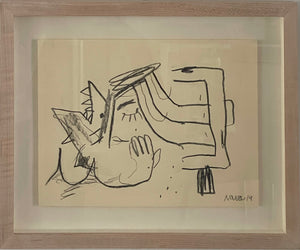 Artist: Robert Nava 
Title: Untitled
Medium: Mixed Media on Paper
Size: 9 x 12 Inches (22.9 × 30.5 cm)
Year: 2019
Notes: Hand Signed by the Artist. Custom Framed, Floating on a Cream Acid Free Matting with a Natural Wood Frame.
Artistic Style: Robert Nava's art is a testament to raw, vibrant creativity, achieved through an energetic fusion of spray paint, acrylics, and grease pencil. His large-scale paintings depict fantastical creatures that radiate an uninhibited, playful spirit, challenging the pretentiousness often associated with high art. Instead, Nava's work invites viewers to reconnect with the untamed imagination of their childhoods.
Artistic Evolution: To cultivate his uniquely personal style, Nava boldly shed the rules and conventional attitudes he had acquired during his MFA studies at Yale University. This fearless approach aligns him with the irreverent "bad" painting movement initially conceptualized by Marcia Tucker, the New Museum's founding curator, in 1978. Nava's hybrid monsters, ranging from dragon-like beings to angelic forms, are meticulously crafted composites that he continually refines in his sketchbooks. Drawing forms the cornerstone of his practice, a daily ritual of creative exploration.
Vivid Realms and Techno Inspiration: Often created to the pulsating rhythms of techno music, Nava's paintings transport viewers to realms saturated with magic and boundless potential. Within these realms, beings perpetually teeter on the brink of metamorphosis. While Nava's art provides respite from the cynicism and dystopia prevalent in today's world, it never descends into escapism. His depictions of animal ferocity and graffiti-inspired markings, influenced by the gesturalism of artists like Cy Twombly and Jean-Michel Basquiat, imply an undercurrent of violence and destruction. Consequently, Nava's work reacquaints viewers with their almost childlike capacity for fantasy and creativity, all while offering contemplation on the loss of innocence and its potential for rediscovery.
Collections and Exhibitions: Nava's artwork is featured in prestigious collections, including the Musée d'Art Moderne in Paris, France; the Art Institute of Chicago in Illinois; the Institute of Contemporary Art in Miami, Florida; the Museum of Contemporary Art San Diego in California; the Museum of Fine Arts in Houston, Texas; the Columbus Museum of Art in Columbus, Ohio; the Orange County Museum of Art in Santa Ana, CA, and the Zuzeum Art Center in Riga, Latvia. His art has graced numerous solo exhibitions both domestically and internationally, including "Bloodsport" (2022) at Night Gallery, "Robert Nava" (2021) at Pace East Hampton, "Robert Nava" (2021) at Pace Palm Beach, "Robert Nava: Angels" (2021) at Vito Schnabel Gallery, and "Robert Nava" (2020) at Sorry We're Closed in Brussels.