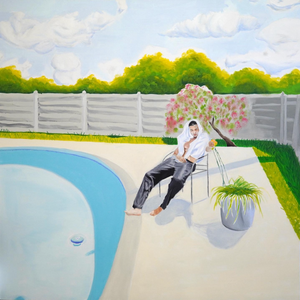 Artist: Tyler Ward
Title: At a Loss of Shade
Medium: Oil on Wood Panel 
Size:  48 x 36 Inches
Edition: Original 
Year: 2021
Notes: 
Acting as a visual metaphor depicting the artist's struggles with mental health from the end of 2019 to the beginning of 2021. Displaying the physical manifestation of anxiety and depression, and the feeling of being alone but surrounded. The feeling of having these invisible walls close in on you but no one can feel or see them but yourself. 
Black Americans are incarcerated in state prisons at nearly 5 times the rate of white Americans. Nationally, one in 81 Black adults in the U.S. is serving time in state prison.