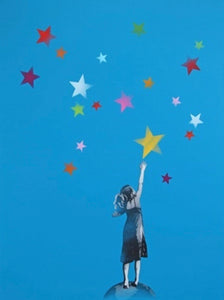 Artist:  Kunstrasen
Title: Why Reach for the Stars When This Place Could Be Heaven Too
Size:   31 1/2 x 23 3/5 (80 x 60 cm)
Medium: Acrylic and Spray Paint on Canvas
Year:  2018
Notes: Unique Original Canvas Edition of 7 on deep edge canvas. Signed and numbered on reverse. Each canvas is unique in the color composition of the stars. Only the big yellow star is the same on every canvas.