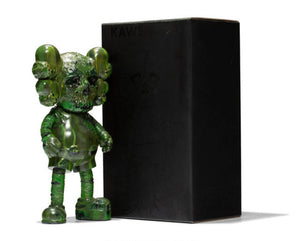 Artist:  Kaws x Pushead
Title:  Companion (Green)
Size: 10 7/10 x 5 1/2 x 3 Inches 
Medium:  Painted Cast Vinyl 
Edition:  of 1000
Year:  2005
Notes: Manufactured by Medicom. Comes in molded plastic, in Original box with Hologram. 
All Inquires will be considered.
KAWS is a multi-faceted artist straddling the worlds of art and design in his prolific body of work that ranges from paintings, murals, and large-scale sculptures to product design and toy-making. His iconic "XX" signature has its roots in the beginning of his career as a street artist in the 1990s, when he began altering found advertisements by incorporating his own masterful paintings. Evoking the sensibilities of Pop artists like Andy Warhol and Claes Oldenburg, KAWS possesses a sophisticated humor and thoughtful interplay with consumer products and collaborations with global brands. He often draws inspiration and appropriates from popular culture animations to form a unique artistic vocabulary and influential cast of hybrid cartoon and human characters.