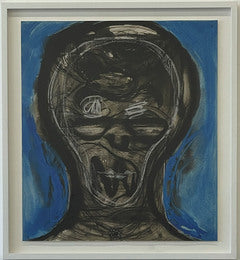 Artist: 

 
Huma Bhabha 
Title:

 
Untitled
Size:
 20 22/25 × 19 in (53 × 48.3 cm)

Medium: 

 
Digital archival print on Epson Hot Press Natural 330g/m2

Edition:
  50
Year:

  
2021
Notes:

  
What would the missing link between the classical sculptures of ancient Greece, and the monster movie creations of contemporary sci-fi look like? A number of beautiful, engaging responses can be found in the work of the brilliant contemporary Pakistani-American artist Huma Bhabha.
Born in Karachi in 1962, Bhahbha studied at the Rhode Island School of Design, then at Columbia University. She lived for a while in New York City, before heading a little further up the Hudson Valley, to settle in Poughkeepsie, NY, where she continues to create figurative sculptures, collages, works on paper and prints, that seem to reference both real, long-since collapsed civilizations, and fantasy worlds in such an intense fashion, that you're left wondering whether to reach for explorer binoculars or 3D glasses.
Bhabha herself is in no doubt as her feelings towards the grotesque. "For me ghastly and horror mean sophisticated and beautiful," she says.
Untitled, 2021, Bhabha's new Artspace & Phaidon edition in association with MOCA LA, is an example of the haunted human figures, dominant in her work, that hover between abstraction and figuration, monumentality and entropy.
"It is an image that very much reflects what I have been doing in my two-dimensional works in recent years," she says.
Created exclusively to benefit MOCA through a unique Artspace editions initiative, proceeds from the sale of Untitled, 2021 will support programming at the museum for the coming year.
Currently the subject of two excellent shows at David Kordansky gallery at Art Basel Hong Kong and Salon 94 in New York, Bhabha's artistic ambitions were seeded in her infancy. The artist's mother was a talented painter, and an inspiring figure. The Bhabha family library also contained a wealth of artistic stimulation, especially when it came to antiquity. "My favorite was a book on Greek statuary and vases," the artist recalls.
Nevertheless, there were clear, contemporary influences on her early artistic sensibilities, some of which reached her via the cinema screen. "The movie Scanners by David Cronenberg was an eye opener for me in terms of how I wanted to think about my sculpture," she explains. "Horror and science fiction allowed me to use my imagination and be original in an unconventional way."
Source: Artspace Editors