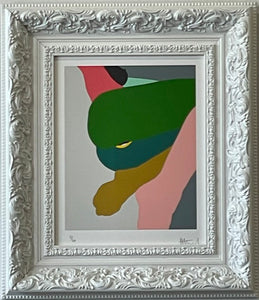 Artist: Helen Beard
Title: Syntribate
Medium: 10 layer separation silkscreen print on 410gsm Somerset Satin paper
Size: 12 1/2 x 10 Inches (31.8 x 25.4 cm)
Edition: 60 
Year: 2019
Notes: Signed and numbered on front lower margin. Artwork is in excellent condition and comes with a certificate of authenticity. Custom framed in white, ornate frame.
Helen Beard is best known for her large scale color-field oil paintings depicting sexual imagery in a closely cropped format. With provocative art, she celebrates sex from a woman's perspective. Her use of bold colors and alluring approach captures the various aspects of female sexuality and highlights intimate moments through the eyes of a woman.
Using condensed polychromatic shapes and indistinguishable forms, Beard combines abstraction and realism. She juxtaposes her subject matter with vibrant hues to create a strong visual impact. Her bold yet simple imagery balances the erotic tones created by the visual rhythms and sensual movement within her composition. Additionally, the visible brush strokes add to the raw intimacy present in her work.
Syntribate illustrates a female nude while focusing on her lower half. The slang term syntribate refers to a type of masturbation exclusively done by females by crossing their legs and rubbing their thighs together. With the female figure as the active protagonist of the silkscreen, Beard celebrates a solo female erotic fantasy. Furthermore, she explores gender, eroticism, and sexual psychology with a provocative scene of female self-pleasure.