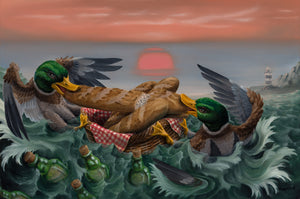 Artist:  Brady Willmott
Title:  Enough to Go Around
Size: 24 x 36 Inches
Medium: Oil on Canvas
Edition:  Original
Year:  2022
Notes: Hand signed by the Artist. Issued directly from the artist, apart of his solo show at Spectrum Miami 2022.
Fine Art Surrealist Painter Brady Willmott uses traditional oil painting techniques to
create works of art featuring anamorphic animals in unique situations with traditional
surroundings which reflects on the artist's unusual life experience. After building a
successful career as a tattoo artist he has retired his tattoo machines and inks for
brushes and oil.