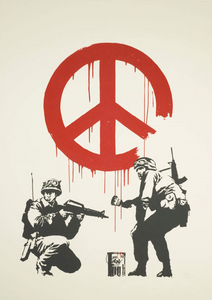 Artist:  Banksy 
Title:  CND Soldiers
Size:   28 x 20 Inches
Paper:  250gsm Recycled Stock
Technique:  Screen Print
Edition:  of 350
Year:  2005
Notes:  CND is the Campaign for Nuclear Disarmament. Founded by Lord Betrand Russel, it commissioned what is now know as the "peace" symbol and was the sponsor of mass marches and sit-down protests in London. Pest Control Included. Artwork is in Excellent Condition.
Custom Framed.
On Exclusive Consignment. US Based. Additional Images on request.